Post by cjeagle on Nov 26, 2016 5:50:12 GMT 8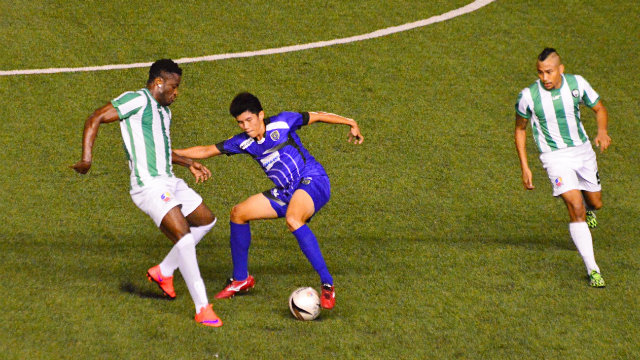 25 November 2016
Dooley pleased with young Casambre's performance
By: Randolph B. Leongson
BOCAUE – It may have looked like a risk to some, but for Philippine coach Thomas Dooley, putting Marco Casambre as the starting center back for the Azkals in their all-important match against Thailand in the 2016 AFF Suzuki Cup on Friday was just the right move.
Dooley said he was impressed with what he saw from Casambre in practice, leading him to give the young gun the starting job.
"Marco showed in training that he's awake, and he's there. He has a good left foot, makes less mistakes passing out of the back, he's good in the air. He fought against everybody and I thought I had to give him a chance to play against them," he said.
"That's why I made the decision to make him our center back and play next to Amani (Aguinaldo), two young players. Jeffrey (Christiaens) could play in the outside, maybe get a little bit more involved in the offense."
The 17-year-old Casambre had his baptism of fire for the national team on Friday, but held his own in the backline against the tough War Elephants.
Dooley shared it was also a part of his game plan to take advantage of Thailand resting most of its starters and utilizing its second team.
"We needed to have a little bit more speed in the center, especially for counters. That's why I took Marco and Jeffrey in, and have little more experienced players like Kevin (Ingreso) should be good enough for the last 20 minutes. That was the idea," he said.
Casambre did a good account of himself before subbing out at the 79th minute in lieu of Kevin Ingreso.
Unfortunately, the Philippines lost to Thailand, 1-0, bowing out of the biennial meet after finishing with only two points.
Still, it was a promising run for the University of the Philippines defender, earning praise from no less than Dooley himself.
"We could have been 1-0 before (Thailand) scored, but it didn't happen. I was pleased with the way Marco played," he said.
Read more:
sports.inquirer.net/230706/dooley-pleased-with-casambres-performance-as-starter#ixzz4R3GtPFC6
Welcome to the Profiles section Marco. You are a good example of how a professional league can help develop a local player for the national team. Work hard and develop your game.
One thing about Dooley though, he is not afraid of playing local players in their first game in a key position in an important match, if he thinks they are ready, as he did with 17 y/o Marco Casambre when he started him at centerback against Thailand and acquitted himself well. Along with 21 y/o fellow native Amani Aguinaldo, that is a potential centerback duo, that if they develop further can man the Azkals backline for years to come. I am not surprised at this, as being a centerback himself with World Cup and Bundesliga experience, Dooley knows what to look for in players in that position and can help develop them.