Post by cjeagle on Nov 12, 2015 4:27:01 GMT 8
I am copying this from the Kaya FC page, because it is instructional on how to set up a viable grassroots academy program for a club in the Philippines:
At Kaya FC Academy, grassroots football starts at a young age
Kaya Academy, started by one man looking for a place for his son to play, now has 800 enrollees and is the model for sustainable grassroots football growth in the Philippines
Ryan Songalia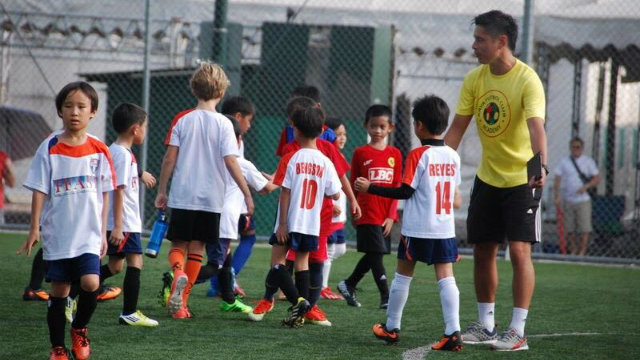 COACH CHRIS. Chris Greatwich's commitment to Kaya FC goes beyond coaching the main team. Photo courtesy Kaya Academy
COACH CHRIS. Chris Greatwich's commitment to Kaya FC goes beyond coaching the main team. Photo courtesy Kaya Academy
MANILA, Philippines - From the age they can walk, children in the Philippines are already dribbling a basketball. Relatively few places exist where youngsters can kick a football around with their friends compared to the facilities available for the de facto national sport.
That was a big reason why Raffy Herrera decided to create what would become Kaya FC Academy in 2010. Herrera, who had once traveled to Europe to pursue his own interest in football, was simply looking for a place where his son, Nino, could play.
Naturally, playing football alone can get boring, and other children joined. The squad was called FC Elite and consisted of 40 kids looking for a place outside of their school teams to play. They entered the Poten-Cee Cup, the first high quality under-17 youth tournament, in 2011. And won.
It was then that Herrera realized he had something special on his hands.
"A decade ago, or two decades ago, when you reach the age of 12-13, that's it," Herrera tells Rappler. "You play with your school, that's the only football here. There's no formal academy here. Kids have nowhere to go, that's why I thought of FC Elite."
Success was measured, but in time the academy started drawing attention. One of those people who took notice was Santi Araneta, owner of the Kaya FC team of the United Football League (UFL). The academy merged with the team and took the club's name.
The academy, which began initially with 6 enrollees, became 120 before one of the key players on the country's national team took a major role in the academy.
Chris Greatwich had been around football all his life. Born in Westminster, England, the midfielder had spent time with the Philippine national football team known as the Azkals. Greatwich would joke often that he was a better coach than he was a player, despite his many achievements on the field. His commitment to the academy in 2013 was a game changer.
"Chris came in, then it took off," Herrera recalls. "He knew everything, he knew how to manage an academy. Basically he just did it from scratch and look at us now."
For Greatwich, working with young people comes naturally. Prior to relocating to the Philippines, he was based in New Jersey, teaching children as young as age 3 how to play football.
"That's hard coming from a professional background where things have come quite easy for me with elite level kids that I worked with before," said Greatwich, the academy's director and the recently-appointed coach of the Kaya FC team in the UFL.
"To teach little girls that have never kicked a ball in their life really teaches you to break down every little technical aspect. That for me was a very good grounding of how to teach kids."
The academy hopes to foster the interest of young footballers and - hopefully - create a sustainable club model similar to the standard in Europe, where young people grow up with their clubs before making the first team.
"It's a pretty monumental task," Greatwich concedes. "Ultimately we want to be on a level where we can compete with the best teams of Southeast Asia, that's the aim. The overview is to have a more sustainable club, more homegrown players coming through the system.
"In terms of trying to build a club, we're trying to get kids from a young age to buy into what we're trying to do and hopefully year on year we'll start to push kids into our first team and then it becomes a conveyor belt, it's just a player factory, player after player who has come through the system, understands the culture, they understand the system, they understand what it means to play for the club. And that takes time."
Currently, the academy has 800 students at 4 locations at McKinley Hill, Bonifacio Global City and Alabang's Cuenca Field, plus 20 special needs players based out of their location at One World School in North Forbes.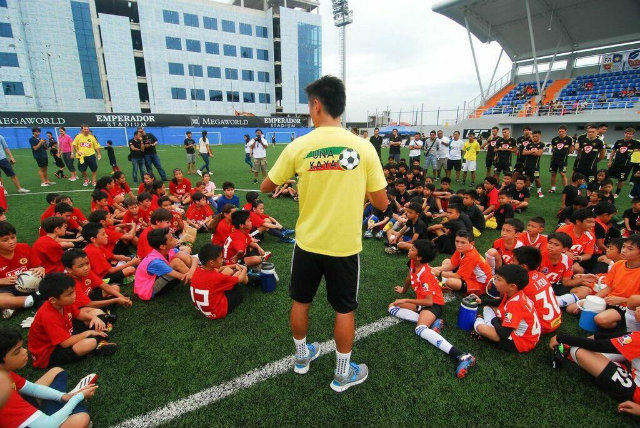 Former Azkals player Chris Greatwich lectures groups of young players at Emperador Stadium. Photo courtesy Kaya Academy
Former Azkals player Chris Greatwich lectures groups of young players at Emperador Stadium. Photo courtesy Kaya Academy
The academy caters to serious footballers, but also has recreational teams for kids who want to play for fun. The youngest students are aged 6, with players in the KayaFC Elite team being comprised of 15-17 year olds.
Kaya's U-19 team, known as KayaB or their second team, is applying for a place in the UFL's second division for next season.
"Hopefully some of the boys there can play the first team. That's the system Europe that we're using right now," said Herrera. I think no other club in the Philippines is doing it. I think we're the only one."
So far 3 players from their academy have cracked the defending UFL Cup champions' squad, including Nino Herrera, Rocky Plaza and Nico Cruz. All 3 are currently collegiate players (Herrera is from Ateneo, Cruz is at University of the Philippines while Plaza plays at Knox College in Illinois, USA), as are 27 other players. And when they're ready to play in the pros, they'll have a spot to return to.
"When they come back, they're still Kaya players," said Herrera.
On the field, the academy has racked up domestic titles. In the 2015 UFL Youth League, Kaya fielded teams in 5 age groups for boys and one team for girls. Of those 5 teams, 5 of them made the playoffs, 4 made the semifinals and 3 made the finals, while the U-17 team won the championship for the third straight year.
Championships indicate the progress the academy has made, but it's not the only way the academy is measuring success.

"For me that's not the barometer for success," said Greatwich. "The barometer for success for me would be, how many players can we get progressing through into the first team? How many kids can we get on full scholarships to go to college?"
"It's not only football we instill," adds Herrera. "We push them to study hard in school, and after school, their Kaya family is here."
www.rappler.com/sports/by-sport/football/111688-kaya-academy-grassroots-football
It is nice to see our national team players contribute more to Philippine football than just playing for the Azkals. Their experience from abroad will hopefully give rise to the next generation of professionally trained players who have been trained from a very young age.
Anyways, Just like in many countries of Europe this European style academy system should be a requirement for every team wanting to join the UFL first division.