Post by cjeagle on Jan 29, 2018 22:10:22 GMT 8
Brazilian legend Zico urges Pinoys to learn, not to give up on football dreams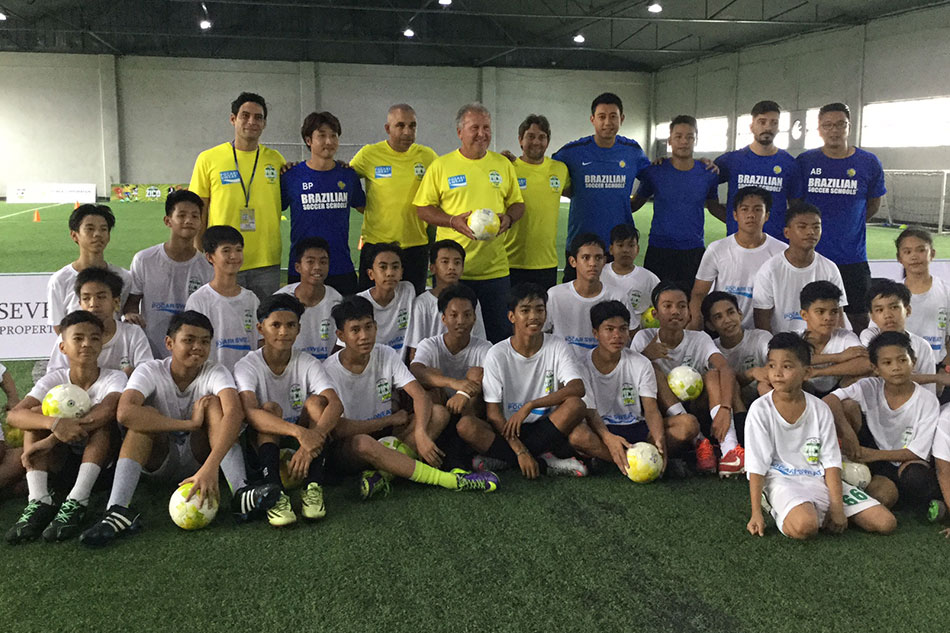 Arthur Antunes Coimbra, known to the world at large as Zico, the great football player, arrived in Manila Friday for a whirlwind promotional tour for less than 48 hours.
Zico, 64, made a name for himself as an attacking midfielder first for Flamengo in his home country, then Udinese in Italy, and with the national team where he had a brilliant career.
After he hung up his boots, the Brazilian found his second calling in coaching where he's had a remarkable career with Fenerbahce in Turkey and Bunyodkor in Uzbekistan where he led both clubs to multiple championships.
Yet for all his coaching achievements, it is in Japan where he tasted his biggest international success. Zico is revered in the "Land of the Rising Sun" for leading the Blue Samurai to the 2004 Asian Cup title as well as to the 2006 FIFA World Cup in Germany.
Prior to stopping over at Sparta (Sports and Recreational Training Arena) along Pioneer Street in Mandaluyong City to give a talk to participants in the Brazilian Soccer Schools, Zico dropped by the Manila Cathedral to pray.
"I am a man of faith and religion plays a large part in my life," related Zico through an interpreter.
"I am getting older now and I constantly pray to God to give me strength to carry on in coaching the young. It is also through football that I honor him."
"The game keeps me young. On the other hand, the kids today make me feel old," he joked.
There is much to learn from the footballer who was voted as the eighth greatest football player of the 20th century.
"Although my time in Manila is short, I hope the kids listen to what I have to say," underscored Zico.
While coaching Japan's national team, he said he was best able to impart his knowledge of the game, especially regarding free kicks to Shunsuke Nakamura, who scored one of the best free kick goals in modern football history for Celtic FC (against Motherwell FC), and Yasuhito Endo who is still playing for Gamba Osaka in the J. League.
Nakamura was nominated for the 2007 Ballon d'Or Award for the best football player in the world.
And Zico underscored the need to work hard.
"Everybody says, 'Work hard,' but you need to put in a lot of work if you want to be successful. I trained even when my teammates went home. I found ways to work even if I was alone," he said.
With regards to Philippine football, Zico said that it cannot all be smooth sailing.
"Even the Seleção (Brazil's national team) has had to endure embarrassment and difficulties. You have to learn and be patient. And to always work on what you aren't good at. That's life. Do not let what you worked so hard for to fade away," he said.
Zico reiterated this message to the Brazilian Soccer School students. And despite his age, the football great also put on a simple display of defense to the young kids by stopping one of them from nutmegging him. He also scored a pair of goals that he
accurately flicked toward the net.
One of the Brazilian Soccer School coaches, Hector Zaghi who used to play for Socceroo and Laos in the UFL (he is now also coaching in Ceres FC's youth academy), was really excited to meet his compatriot.
"As a Brazilian, it is a pleasure to meet him. He's been team captain of the national team. I think it is easier to meet them here, in Brazil," Zaghi said.
"You cannot get close to those people because they are surrounded by a lot of people. It is a nice feeling to meet an icon. He isn't just one player. Zico is an icon."
Added former Philippine national player Rely San Agustin who is handling the few Zico in Manila activities: "It is not much time, but we must learn what we can. When a player of Zico's stature talks, you listen."
news.abs-cbn.com/sports/01/27/18/brazilian-legend-zico-urges-pinoys-to-learn-not-to-give-up-on-football-dreams